| | | |
| --- | --- | --- |
| Our machines >>> | | Advantages FIMIC >>> |

Deutscher Text >>>

FIMIC specializes in the design and manufacture of automatic and self-cleaning screen changers for plastic recycling. Our filters are one of a kind, available in different models and sizes, fitting all needs concerning material to process, hourly production target, degree and type of contamination to be removed and filtration requirements.

We are firm supporters of Italian craftsmanship, and therefore all of our technologies are entirely made in Italy, from the design phase down to every single component. Such production philosophy grants a superior quality level and thus an excellent end product, as shown by tests conducted in our internal laboratory, and at our Customers.
Team FIMIC never stops: our defined characteristic is the continuous pursuit of research and development, which allows us to deliver cutting edge solutions and solid savings to our customers. We constantly aim to optimize times and processes to provide those who choose our technology an ever more efficient line of work and productivity: this is what FIMIC melt filters are.




Our machines



• Automatic screen changersfor plastics >>>
• Screw pump SPA >>>
• Plastic-cutting guillotines >>>




Automatic screen changersfor plastics



We've been designing and manufacturing self-cleaning, automatic melt filters for over twenty years, entirely in FIMIC facilities.

The deep level of expertise we reached in the field allows us guarantee our customers complete satisfaction and significant savings. Our aim is to improve the efficiency of your production line and the quality of your output, and we achieve that through a continuous optimization of our own production processes and timeframes. That is why our screen changers are peerless in the world, coming in various models and sizes to deal with any kind of material, contamination, and hourly throughput/filtration level needed.

If you choose us, our mission will be to grant you the ability to work more and better, optimizing your operational costs. Thus, the key features of our products are the time taken for screen changing, never exceeding 30 minutes, and the ability to operate unsupervised and still guarantee a top-quality output. Our screen changers are also extremely customizable: the technology is fitting to the customer's needs, not the other way around! In FIMIC, every need has a solution. That is the feature all our screen changers have in common: be competitive in today's market.


Machine overview

• ERA >>>
• GEM >>>
• RAS >>>
• RAS+REF >>>
• TEN >>>


ERA

ERA is the future of melt filters!
The evolution of RAS, the product that made our name famous worldwide, ERA represents the new generation of melt filters, pushing technology to the highest levels. Not only does it let you process higher contamination levels, it also guarantees a consistent reduction in consumption thanks to the double filter, designed for all materials which require two filtration steps. This results in a significant cut in costs because an initial double investment is not required, whilst guaranteeing an excellent, top-quality end result.


Benefits

Savings
The possibility of avoiding two filtration steps significantly lowers not only the energy costs, but also the initial investment in the purchase of the melt filter. Savings that have a positive impact on any company's balance sheets.
Superior quality
Even the most contaminated plastic materials can attain superior quality thanks to the double filtration chamber and possibility of using punched screens and laser screens. The non-auger valves also allow you to process more aggressive types of contaminants, such as iron and sand, without damaging the filtering screen.

Less waste
Using ERA results in a significant reduction in waste which can be adjusted thanks to the valve opening time. An extremely important aspect in the recycling process and a further guarantee of the quality of the final yield of the material obtained.

High productivity
With ERA, the hourly production rate of the extruder increases, precisely because the melt filter allows the material to flow out without any obstacles. The filtering surface is almost 5.500cm² with just one melt filter thanks to the two filtration chambers!



►

For more information, please click here.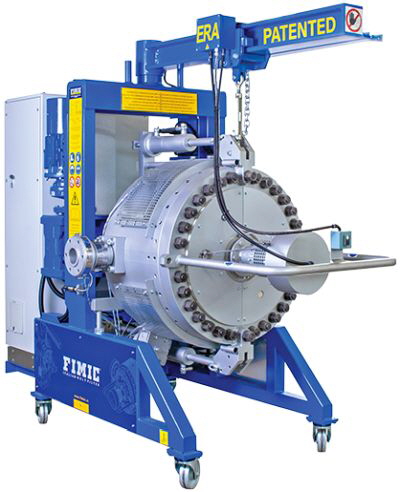 GEM

The largest filtering surface with just two screens and two valves
The amount of material to be recycled is constantly increasing, but at the same time, it is necessary to maintain the high quality standards of the results. This is why we have designed a truly exclusive melt filter combining FIMIC technology with the experience that has made us filtration specialists, with the guarantee of never failing to obtain an excellent end product. Because we like thinking big!

GEM combines the power of RAS, FIMIC's superior filter, with the winning idea of the ERA double filter. The result is an exclusive technology which combines two identical Ø 600 or Ø 700 screens, two scrapers and two valves, achieving a surface area of 5.552 cm² and 7.592 cm²: the largest in the world on a single machine!

We have never been daunted by challenges and GEM stemmed precisely from the most exciting and difficult challenge of all: to allow a greater hourly production rate thanks to a bigger filtration surface than any other melt filter on the market. And all with just two screens! Without ever losing sight of the processing of any level of material contamination, with reduced waste and low maintenance costs.


Benefits

The only one
There is nothing else like GEM, the "twin" filter which works twice as hard and offers an unparalleled filtering surface, guaranteeing a superior result compared to any other product on the market.

High production
The filtering surface is even bigger than RAS, but with just two screens! This is why the hourly production rate increases with GEM, achieving a filtering surface higher than a RAS700.

Cost-effective
Despite being the largest filter on the market, GEM ensures very low spare part costs while the use of just two screens means a lower initial investment.

Customisation
To guarantee an excellent end result, GEM can be adapted to any requirement, based on the type of plastic material to be filtered, the hourly production rate, filtration level and type of contamination.



►

For more information, please click here.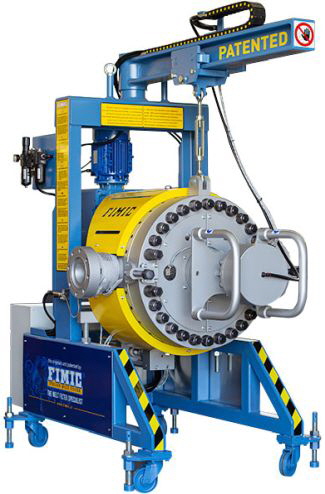 RAS

Recycling plastic materials is no longer the same with ras!
RAS is the FIMIC melt filter that can manage any contamination level, guaranteeing a reduced quantity of waste and low maintenance costs.

RAS can be adapted to your specific requirements, like the type of plastic material to be filtered, hourly production rate, filtration level and type of contamination.

RAS is the filter that made FIMIC known around the world, our flagship product, and we are especially proud of it since it represents an important achievement for our company. Today, we have surpassed 370 RAS filter units installed on all the continents, from South America to New Zealand. A milestone that bears witness to FIMIC's extensive experience in manufacturing filters for over twenty years, and the quality of an all-Italian product that has taken Made in Italy to an international level.


Benefits

FLEXIBILITY
RAS covers all the possible applications: blown film, injection, injection moulding.

Customisation
All the possible filtrations are available thanks to the punched and laser screens. A punched screen can normally last from 3 days to a maximum of 7 while a laser one can last from normally one week to a maximum of 12 days, with the possibility of reusing it after being cleaned in the pyrolytic oven up to four times, thus cutting costs.

Strength
RAS is undoubtedly the strongest on the market! The non-auger valve allows you to process any type of contamination, even the most aggressive, such as iron and sand, without damaging blades and screen.

End quality
The size of RAS's filtering surface is in a league of its own. This characteristic prevents it from degrading the processed material, which is able to flow unhindered. This is why the hourly production rate increases with RAS!



►

For more information, please click here.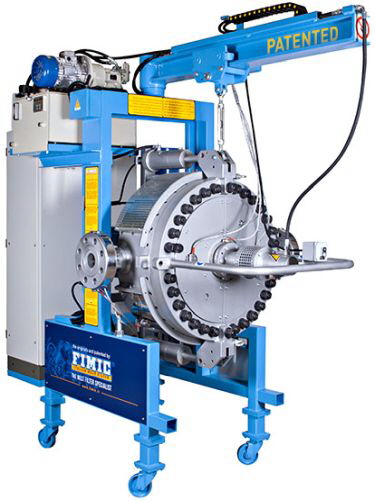 RAS+REF

The filter which announced fimic's technology to the recycling industry
Improved by the option of working in backflush as well. RAS+REF is a filter which allows you to work with two different systems: either by scraping or with backflush, thus offering an extra option to anyone who wants to treat materials with mesh screens too.

REF is, therefore, an additional accessory, ideal for working with a screen with excellent end results


Benefits

Outstanding quality
The backflush allows you to filter post-industrial material with outstanding filtration quality.

Flexibility
The addition of REF technology to the RAS filter makes the machine highly flexible, so it can work with any type of contamination, even the smallest ones!

Two in one
If you need to work in backflush, the same filter is pre-configured to be used simply and instantly.

Cost optimisation
Adapting the RAS and REF filter means guaranteed optimisation of costs without having to make major investments in purchasing another machine.



►

For more information, please click here.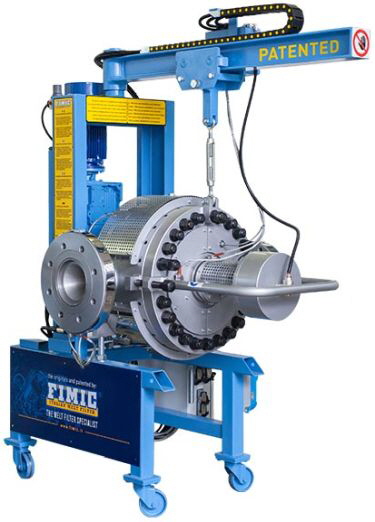 TEN

We have taken our melt filter to another level!
TEN allows you to filter constantly on woven mesh, eliminating build-ups of material and drops in production rates with the additional option of adjusting the screen output. Choosing TEN means you are looking for a new ally in the world of mesh filtration, to guarantee not only superior quality post-industrial material, but also an ally to eliminate the constant presence of the operator, thus facilitating daily work.

TEN is FIMIC's automatic melt filter, capable of blocking even the smallest of contamination particles thanks to the highly resistant screen, which adapts the temperature according to requirements and based on the material being processed. The adjustable opening of the screen outlet is another guarantee of the quality of the final result.


Benefits

Safety
TEN embodies the tradition of melt filters plus FIMIC's innovation which constantly drives us to improve our offer and obtain the very best result without fail.

Strength
TEN is the solution for anyone looking for the highest screen filtration quality with the guarantee of having a strong, cutting-edge product that can eliminate material build-ups.

No blockage
No interruption in the flow avoids stress on the plastic material or an increase in the melt temperature which is simply adapted based on the material. A pre-set temperature is, in fact, not required to prevent screen breakage.

Excellent result
All our melt filters are designed to guarantee excellent results and TEN is no exception!



►

For more information, please click here.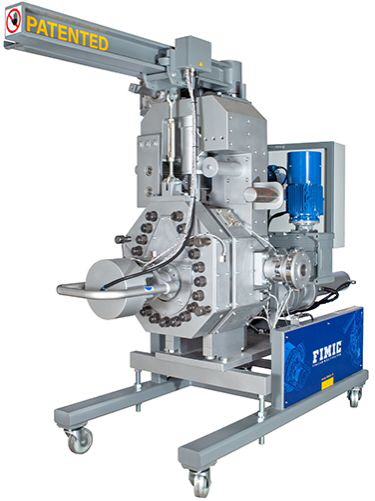 Screw pump SPA



Innovative, one-of-a-kind technology designed to make the work of recyclers faster, more effective and cheaper.
SPA is a revolutionary machine: a pump that allows you to easily transport plastic material melted by the extruder to the filter without using gears. SPA, in fact, operates with a single screw and requires very little maintenance. The ideal solution for anyone looking for the highest quality of the final result while significantly lowering management costs.

The secret in a screw
Standard gear pumps used to recycle plastic material are very sensitive because the contamination contained therein can damage them easily. For this reason, not only is constant maintenance required, but often also the installation of a safety filter to protect the pump, with a significant economic outlay, both for the purchase of the machinery and the interventions required for its operation. Not forgetting that gears must be periodically replaced by the operator, a further operating disadvantage.

Choosing the innovative SPA screw pump, on the other hand, ensures significant savings, because the management costs are greatly reduced – there is no need for maintenance, nor is it necessary to buy a second protective filter or expensive replacement gears that the operator needs to have on hand for replacement.

Simplified use, outstanding results
Operating it is incredibly easy. A gear pump is, in fact, much more complex to operate, while SPA is easy to use and does not require periodic replacements by operators. It can also be used both before and after the filter, and is also perfect for double filtration needs.

• Before the filter: it allows you to protect the twin-screw extruder used for the production of compounds.
• After the filter: it allows you to stabilise the pressure of the material and also increase the productivity of the
filter and extruder.

SPA combines the highest level of engineering design, that has always been a signature feature of FIMIC technologies, with the highest quality of the construction materials, to offer a superior, reliable and high-performance product.

At the same time, the innovative operation of the FIMIC screw pump guarantees recyclers major savings in operating costs, as well as excellent end material.

All the benefits of spa
• Economic savings
• High end quality and less waste
• Longer lifespan
• Operating speed
• No maintenance
• Ease of operation



►

For more information, please click here.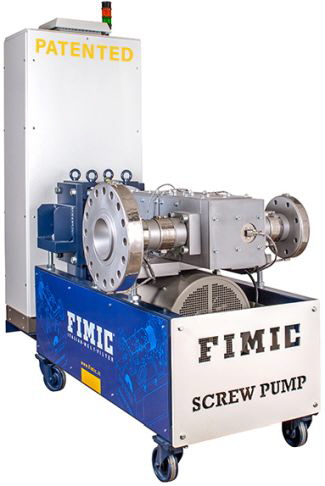 Plastic-cutting guillotines



When FIMIC was born, our main line of production was the manufacturing of guillotines for the cutting of bales and rolls of industrial waste, and they still retain their place as our flagship products thanks to our state-of-the-art production method, which sets them apart for the rest of the market.

FIMIC guillotines can fit to each and any cutting scenario, covering every area of the recycling process of materials such as plastics, rubber and paper. FIMIC also offers the possibility of fully customizing its guillotines to fit every need concerning layout, safety and output.

Our designing team works hard on every single guillotine with the caring hands of expert craftsmen, treating them like their own works of art.

In a word? Unbreakable! FIMIC guillotines are built with the unmatched Italian expertise and craftmanship, and thus they guarantee peerless resistance, lifetime and soundness. They require no maintenance, and deliver a flawless result even after 25 years of use.

Two different lines of guillotines are available for our customers, focused on different kinds of materials and cuts.


Benefits

Perfectly tailored
Almost entirely customizable by the customer, every guillotine we make is a unique piece, carefully tailored to its required task, to achieve just the perfect result.

Unbreakable
Those who choose our guillotines know for a fact that 25 years later they'll still work like the day they were bought. Such a feat is achieved through flawless design and manufacture.

State of the art
FIMIC guillotines are recognizable at first glance, since they're manufactured with the state of the art craftsmanship that is the trademark of Made in Italy: that's the greatest form of quality assurance we provide.

Cutting edge
With a cutting power reaching up to 120 tons, FIMIC Guillotines can truly cut anything: from paper and plastics to industrial waste rolls



►

For more information, please click here.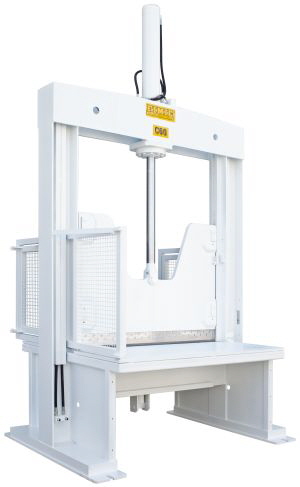 Advantages Fimic



Low maintenance costs
FIMIC melt filters are widely regarded as the least expensive to operate on the market: spare parts are inexpensive, with average operational costs of about 10.000 to 15.000 Euro / year. Such reduction of maintenance costs is made possible by the high construction specs of the machine: the technology level employed makes FIMIC products safe in use and durable in time. The starting investment in the machinery is easily repaid by the low yearly expenses in spare parts and consumables.

Guaranteed high quality
FIMIC guarantees high results and a supreme quality for end products, our main target. Saving on maintenance costs, in fact, doesn't influence the quality of spare parts, always guaranteed to be on extremely high standards.
An example? Our Laser screens can be normally cleansed and reused up to four times, and the price of each blade tops at 15 euros each.


Adjustable waste
The amount of waste produced by our melt filters can be adjusted through a special FIMIC valve, automatically opened when necessary, according to the level of melt contamination. Thus, the waste flow is proportional to the amount of contamination: in the event of a particularly clean melt, the valve will stay shut, and discharge just the little amount of waste filtered.

This characteristic makes our specially designed valve an essential, adaptable and flexible element according to any filtration need, also allowing to minimize waste.

Waste = % of contamination to expel + 1% of plastic (MAX)

The value of FIMIC melt filters, alongside the cost reduction they provide and all of the above characteristics like the adjustable waste flow, can really make a difference in overall management costs.

There are many advantages in choosing one of FIMIC's products: we want these not to be just words, but actual, tangible results. And that is why we invite you in our testing laboratories to come and try our filters with your materials!


Fimic is the filtration specialist.
We have just the right filter to fit every need, with maximum flexibility and customizability.

And now, what kind of filter are you?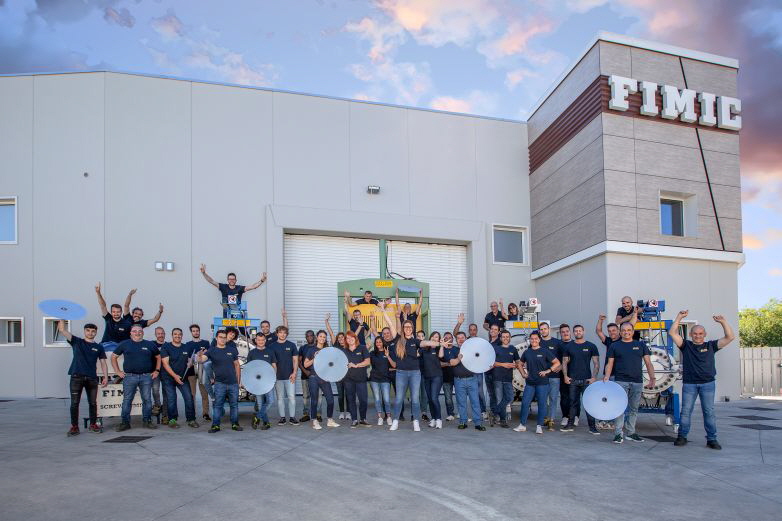 A tight-knit team



Social Media